The Space Show In Florida
By Andrew Rennie
Producer/Presenter
The Space Show
88.3 Southern FM
Melbourne
Australia
This is an account of my trip to Florida to report on space activities at the Kennedy Space Center.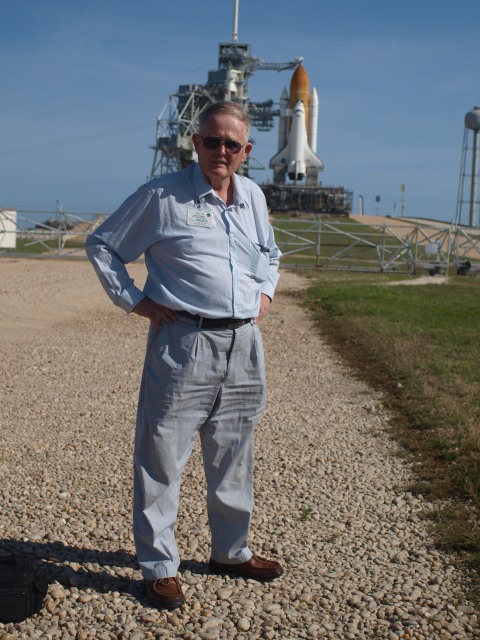 Andrew, minidisc recorder in pocket, at Pad 39A with the Discovery behind him.
During the month in Florida I saw:
* the launch and landing of STS 131;
* preparations to launch STS 132;
* the launch of the X-37B experimental spaceplane;
* President Obama deliver a major space policy speech;
* the SaveSpace rally;
* the Kennedy Space Center Visitor Complex;
* the Astronaut Hall of Fame;
* the Cape Canaveral Air Force Station;
* and the Space Walk of Fame Museum.
I also found time to go aerobatic flying and visit the Florida Keys and some of the many nature parks in the Cape Canaveral and Titusville area.
All of the photos used in this account were taken by myself, or as is the case here, with my camera.
It must be remembered that taking photos was not the prime reason for the visit, and their quality is not as I would wish. They have been reduced in file size and quality to minimise your download time.
Diary Contents Next Page The Space Show Southern FM
Text, images and audio Copyright to Andrew Rennnie, 2010