Preparing For Obama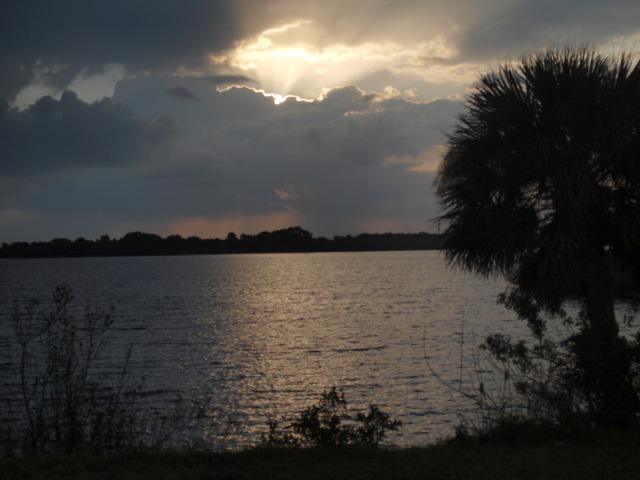 Dawn breaks over the Turn Basin.
On Thursday April 15 I was up bright and early, dressing even with a tie, and then drove to the media badging office at the South Gate to pick up my accreditation.
I must admit that I didn't really believe they ware actually going to let me in. I was concerned that they would spot the green dot on my KSC identity tag that designated foreign media, and say: "Oh no, you cannot come!"
In the event, I walked in, announced my name, and I was immediately handed my pass. No drama, no questions, no denial. I now had the coveted plastic credit card sized badge with my name on it actually in my hand!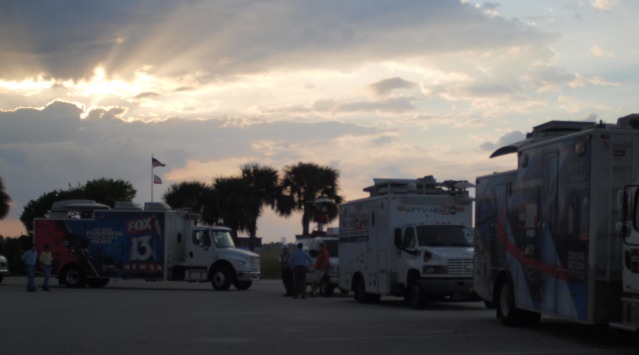 The queue of television outside broadcast vans waiting to be escorted to the Shuttle Landing Facility to cover the arrival and departure of Air Force One.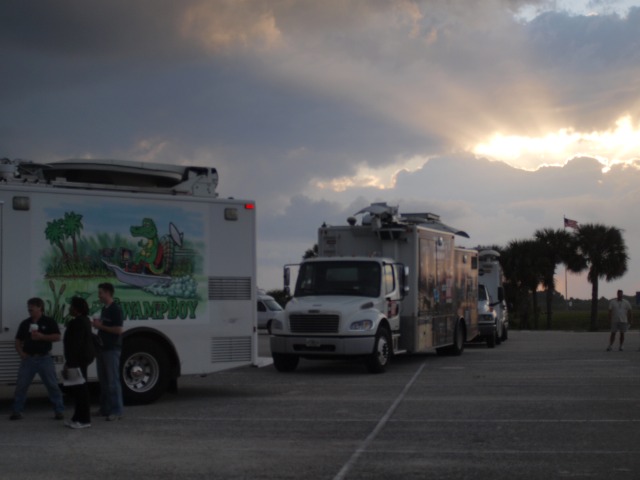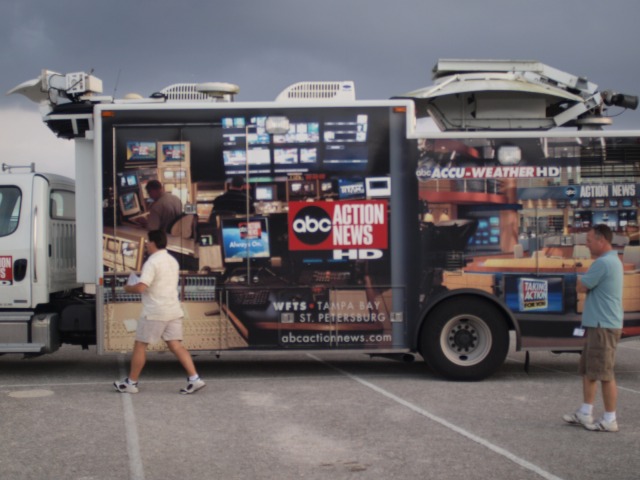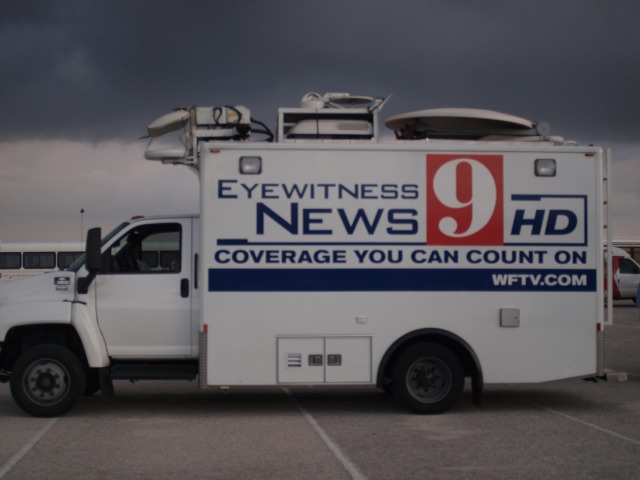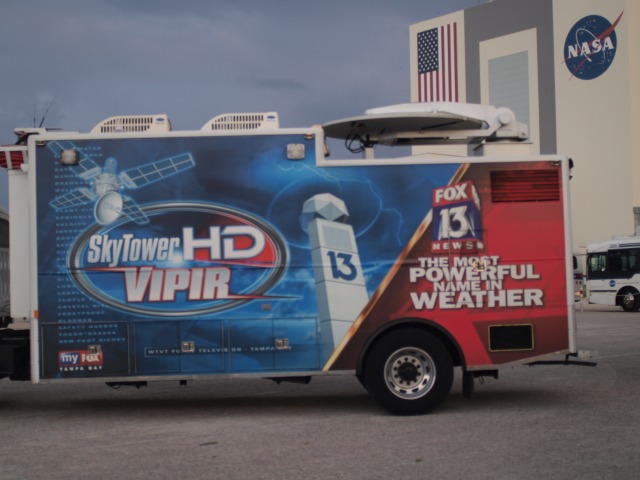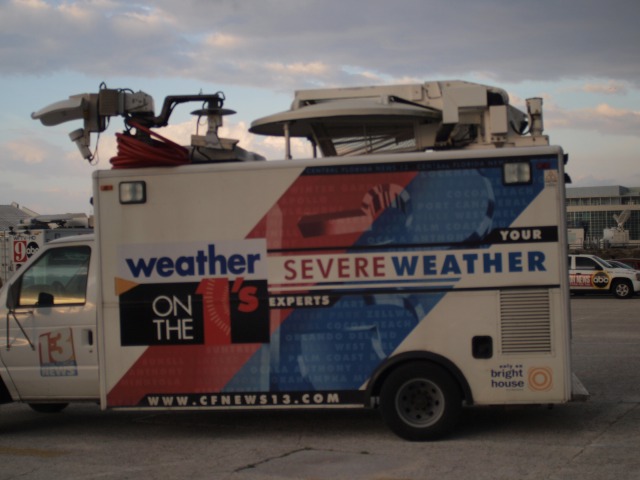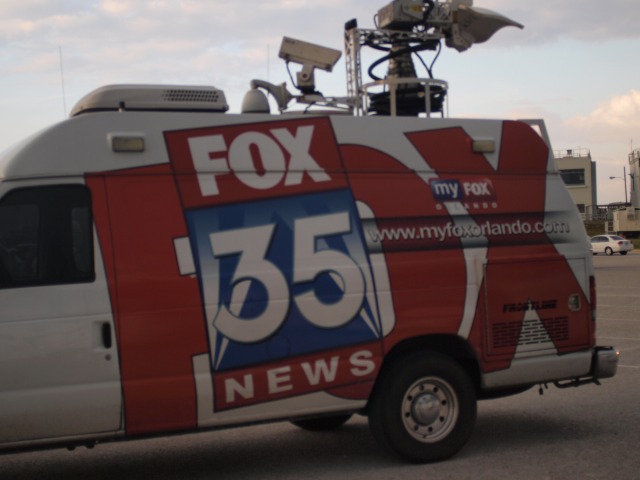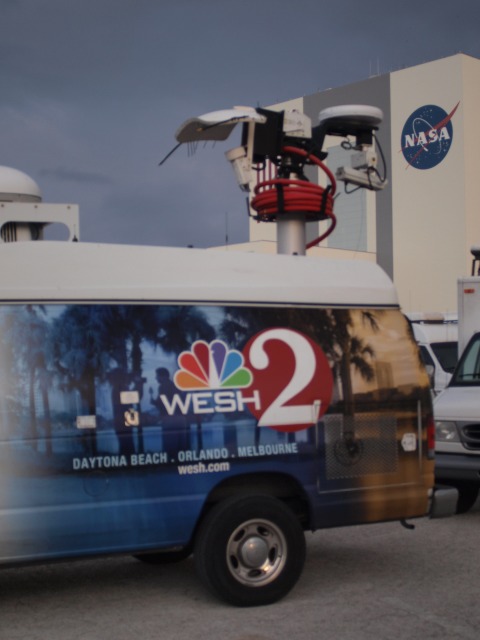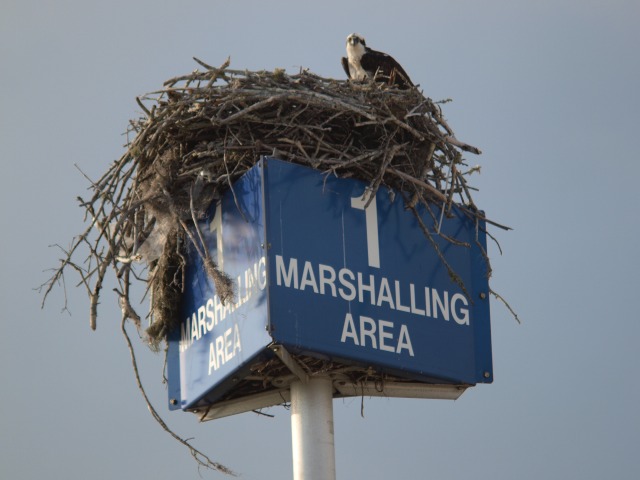 Overseeing this marshalled convoy was an osprey.
We didn't need to show up at the News Center until noon, but I couldn't see much point in driving all the way back to Titusville and then return to KSC, so I went to the News Center, arriving at 7:15 am.
There was a queue of television outside broadcast vans in the car park, anxious to head out and set up to cover the presidential visit.
In the News Center I met and started chatting to a young lady from the White House. She told me that she had just got back from a visit to Australia, where she had been organising President Obama's visit there later in the year.
She gave me a diamond shaped green badge, having first written my name on it. I was now a member of the White House Press Corps!! This meant I could get closer to the President than some of the other reporters. It had certainly paid off to be at the KSC press Site early.
With time to kill I walked to the KSC employee's canteen for a meal, and on the way spotted two ospreys nesting atop high poles. This was another reminder that the space centre is in the middle of a wild life refuge.


Previous page Diary Contents Next Page The Space Show Southern FM
Text, images and audio Copyright to Andrew Rennnie, 2010