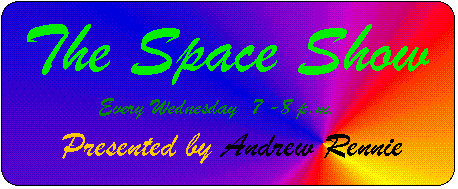 THE SPACE SHOW
looks to
1994
The following article was published in Space Association News Issue 78 in late 1993. It was looking forward to the 1994 programmes.
The Space Show is a one hour radio programme presented every Wednesday evening between 7 and 8 p.m. by the members of the Space Association of Australia, Inc. for Southern FM. It covers a wide range of current space and astronomical events.

Presenters Andrew Rennie and Mark Hillyer and mission controller Alan Walker are planning an even better programme for 1994. This will include a wide range of guests, some science fiction, and more up to the minute news.

Some of the guests who will be on the show over the next few months are already known.

Eureca prizewinner David Allen, of the Anglo-Australian telescope, will explain his findings at the centre of the Milky Way Galaxy, his plans to observe Comet Shoemaker-Levey hit Jupiter, and how he is bale to see the surface of the planet Venus from Coonabarabran. David made a number of contributions to the show during 1993.

Bruce Middleton of the Australian Space Council will be along several times to detail his vision for Australia's future in space, giving an inside look at how government decides on what space projects to support.

Lister Staveley-Smith, of the Australia Telescope, will discuss his latest finding about Supernova 1987a, and how he is waiting for the brightening in the radio band when the expanding shock wave interacts with the circumstellar ring.

On another show we shall discuss with Taso Tuzioumif what his studies of Centaurus A tells us about active galaxies and their enormous energy production. Colleague Matthew Bailes relates how he found millisecond pulsars, and made the first detection of a white dwarf companion.

Also listening to pulsars has been Simon Johnston at Sydney University. He expects we shall soon all be using pulsars to navigate around Melbourne!

Michael Burton at the University of New South Wales has been probing the centre of the galaxy, and tells us what he has found and speculates on what might be found in the near future. He also relates how he plans to build an observatory on the highest and coldest place in Antarctica. The reasons will surprise you.

Mike Roach of the South Australian Science Teachers Association will relate his experiences as an adult at the fabled Space Camp in Huntsville, Alabama.

Kerrie Dougherty, Curator for Space at Sydney's Powerhouse Museum, will explain why the history books are wrong about American rocket pioneer Robert Goddard, and tell us some of the fascinating tales about the artifacts at the museum.

A number of guests, including Guisermo Lemarchand from Argentina, will relate what progress has been made in the search for extraterrestrial intelligence.

There will be series of guests from both Telstra and rival Optus detailing the satellite services each offers in Australia. One will be Telstra's Bill Barrett who will relate how OTC got into the satellite business.

David Cole of the Ionospheric Prediction Service will be a guest several times, explaining some of the mysteries of the Sun and what satellite beacons can tell us about the ionosphere.

During 1994 there will be a series of programmes on the Apollo moon missions. Guests will include Charles and Dotty Duke relating their marital problems following Charles' moonwalk, and Alan Bean talking about his passion for painting the Moon.

A number of guests will continue the 1993 series on how the Global Positioning System is revolutionising many aspects of our lives.

Woomera's Bob Dyer will be along to relate some of his anecdotes about the exciting times at Woomera, including one about a rocket that went walkabout across the desert in the middle of the night.

Space Association member Ian Bryce and others will keep you abreast of ASRI's progress towards launching homemade rockets into outer space.

Nick Lomb of the Sydney Observatory has some fascinating tales to tell about the work of the Observatory, including what happened to the old Melbourne telescope.

John Davis of Sydney University has a tale to tell about the new SUSI telescope at Narribri.

Ex-Melbournian John Lewis will explain how the International Telecommunications Union in Geneva settles disputes between communications satellite operators. It seems that space is not so big after all, and that the Asian region is becoming a fiercely competitive marketplace.

Jonathan Nally of Sky and Space magazine will keep us abreast of current developments in space and astronomy, as will Richard Tonkin of Aerospace Ambassadors.

At times during the year there will be a little science fiction thrown in, although the main thrust of the programme will remain on 'serious', or should we say, 'real', space and astronomy. Likely entrants will be dramatisations of "Battlestar Galactica", "Black Hole", "War of the Worlds", and "Star Trek".

Of course, we shall continue to draw timely attention to significant astronomical events, advising on the best times and ways to see them.

We often announce details of events and meetings that we have been advised about since the latest issue of SpAN went to press, so if you would like to meet a visiting astronaut of astronomer, keep listening.

Other events planned for 1994 will be reviews of the recently released to laser disc updated television series "Cosmos", the laser video disc version of "The Astronomers" series, and the yet to be shown in Australia six part television series "Space Age".

As usual the shows' talks, interviews and news items will be interspersed with a selection of music, sometimes chosen tongue-in-check, to complement the spoken content.

A present Southern FM broadcasts on 88.3 MHz on the FM band, using a 180 watt transmitter on the Moorabbin Town Hall's clock tower. Polarisation is vertical. Our community licence targets our broadcasts to the Bayside suburbs, although we can be received in most areas of Metropolitan Melbourne provided the listener has an efficient radio receiver with a vertical antenna.

During 1994 we shall be moving into new studios, a move that will place a great strain on all involved with the station. However, the move will result in better production facilities being available, allowing a higher standard of programme to reach the listener. At the time of the move, it may be possible to boost the transmitter power, officially to fill in gaps in our designated reception area, but having the side effect of giving us a wider audience reach in other suburbs.

Please keep listening to 88.3 MHz every Wednesday night between 7 and 8 pm.