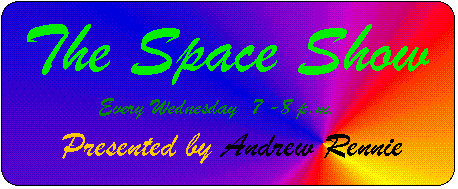 THE SPACE SHOW
broadcasts
"To Touch The Stars"
During 2004 the Space Show broadcast a number of documentary features which included music from the CD To Touch The Stars, which is available from Prometheus Music.

As far as we are aware, 88.3 Southern FM is the only radio station to have broadcast this music in Australia.
TRACK LIST
To Touch the Stars contains 71 minutes of classic and newsongs. They are:
Witnesses' Waltz (3:43)
written by Leslie Fish; sung by Kristoph Klover
Big Blue Sky (3:58)
written and sung by Stan Clardy
Fire in the Sky (4:37)
written by Jordin Kare; sung by Kristoph Klover
Now's the Time to Touch a Star (3:48)
written by Michael Penkava; sung by Karl Franzen
Hope Eyrie (4:14)
written by Leslie Fish; sung by Julia Ecklar
Surprise! (3:07)
written by Leslie Fish; sung by Gunnar Madsen
The Pioneers of Mars (3:03)
written by Karen Linsley and Lloyd Landa; sung by Karen Linsley
If We Had No Moon (8:00)
written and sung by Christine Lavin
I Want to Go to Mars (3:36)
written and sung by The Birdwatchers
Star Fire (3:35)
written by Cynthia McQuillin; sung by Julia Ecklar
Others Standing By (5:00)
written and sung by Kristoph Klover
The Challenge (3:50)
written by Karen Linsley and Lloyd Landa; sung by Karen Linsley
Dog on the Moon (5:22)
written and sung by Garry Novikoff
Beyond the Sky (4:58)
written by Judy Collins; sung by Margaret Davis
Queen Isabella (3:09)
written by Leslie Fish; sung by Kristoph Klover
Legends (3:47)
written by Bill Roper; sung by Julia Ecklar
Dance on the Ceiling (3:16)
written by Leslie Fish; sung by Gunnar Madsen
In publicity material for the album, Prometheus Music's Ellie Goldberg wrote:
" When the Space Shuttle Columbia broke up over Texas in February of 2003, NBC turned to legendary astronaut Buzz Aldrin, the second man to walk on the moon, for perspective on the tragedy. As part of his comments, Buzz began to read a poem, until, overcome with emotion, he could not continue.
"What Buzz was reading from was actually the lyrics to a song from the new CD from Prometheus Music, To Touch The Stars -- A Musical Celebration of Space Exploration. The song was Fire In The Sky (by Dr. Jordin Kare), which includes the line: 'As they passed from us to glory, riding fire in the sky'. Buzz subsequently downloaded album tracks off the Internet, and was moved enough to offer his endorsement for the album.
"Songs range from the scientific (If We Had No Moon) to the historic (Fire in the Sky) to the whimsical (Dance on the Ceiling, Dog On the Moon). 'These are exciting, well-crafted, professionally-written songs in a variety of styles,' says multi-instrumentalist Mark Ungar, who lent his expertise on electric guitar and sitar, vocals and guitar synthesizer to several of the tracks. 'Everyone who was involved turned in great performances. It'll appeal to anyone who enjoys music and is inspired by the exploration of space.'
"The project grew out of a partnership between Prometheus and the National Space Society (NSS), which sponsored a 'pro-space' songwriting competition, inviting 'spacebards' to submit entries.
"'If we are to win the hearts and souls of humanity to the vision of a spacefaring future, the space exploration movement must also develop its songs,' says Dr. Robert Zubrin, then-chairman of the NSS and influential author of the international best-seller The Case For Mars. 'A few people have realized this, and so a subculture has emerged of space folk songs. But outside of performances at space and science fiction conventions, few people have heard this wonderful music.' Zubrin was so convinced of the importance of this endeavour that he held a similar contest a couple of years later when he founded the Mars Society.
"Co-producer Eli Goldberg, owner of Prometheus, adds: 'People in the sci-fi community have been writing and singing songs about space for years, but this project really raises the bar -- we wanted to put out a really high-quality album, not just in terms of the recording and musicianship but the writing as well. We wanted it to be as good as anything you'd hear on the radio or in movies or on TV, and I think we've succeeded in that.'
"The 17 album tracks include winning entries from the NSS and Mars Society contests, along with new works from selected singer/songwriters. Elementary school teacher Michael Penkava's Now's The Time To Touch A Star was the NSS contest's 1st place winner. 'Space isn't just vocabulary words and data: it comes alive as we explore and discover, as we analyze and synthesize, as we discuss and debate.'
"Penkava was encouraged to enter the contest by a student, and harboured no hopes of winning. 'I recorded it in the classroom on a cheap karaoke machine - the sound quality was terrible. The child who wanted me to enter said, 'If your song is good enough, it doesn't matter how bad it sounds.' Out of the mouths of babes...!'
"A majority of the tracks were recorded in Oakland, California at Flowinglass Studio, home of progressive Celtic/Medieval rockers Avalon Rising. Owner Kristoph Klover engineered and co-produced, as well as contributed guitar, vocals and a song (Others Standing By), containing the refrain:
"Why would you go there?' they say.
"There's nothing up there anyway,
We could use the money here.
Don't you know that life's too dear?"

Dreamers never ask why.
Spend their money in the sky.
We'll send the best from Earth,
To find out what it's worth.
"At a time when, more than ever, science without a clearly defined political or commercial agenda is decried as a waste of taxpayers' money, Zubrin says: 'It's an anthem that the country could use right now.'
"Tracks were penned and performed by a variety of musical luminaries. The soaring ballad Beyond the Sky was written by renowned singer/songwriter Judy Collins to honour astronaut Eileen Collins, first woman to command a space shuttle (here sung by Margaret Davis).
"Prolific composer/writer/singer Christine Lavin makes an appearance with her Nova-episode-in-8-minutes number If We Had No Moon, inspired by the documentary film of the same name by Martin Ives. Gunnar Madsen, a co-founder of the popular a cappella group The Bobs, rips through stunning performances of Surprise! (a "Russian folk-song" about Sputnik) and the ska rave-up Dance On The Ceiling.
"The album was mastered by veteran engineer George Horn at world-famous Fantasy Studios in Berkeley, California, with a release date during in 2003 December."
HOW TO ORDER THIS CD
#1. Send US$16 (*) per CD and your address to:

Eli Goldberg
c/o Prometheus Music
333 Franklin Street #5
Mountain View, CA 94041

(*) = California residents: State sales tax makes it $17.32. If you live outside of the USA, drop an e-mail to prometheus-music@prometheus-music.com, and they will make discounted shipping arrangements.

If you'd prefer to pay electronically via Paypal, their account is "eli@prometheus-music.com".

Prometheus says that all orders are protected by their money-back guarantee (which they say has yet to be invoked after four years of shipping thousands of CDs.)

Note: Space Show ordered and paid for it's copy of To Touch The Stars from the company's website, and recieved the CD promptly. We did not put their money back guarantee to the test - we are entirely satisfied with the CD.

We hope you enjoyed listening to these songs!