Plenary Session
NASA's official photographer in action as the team leaders prepare to report back on conference sessions.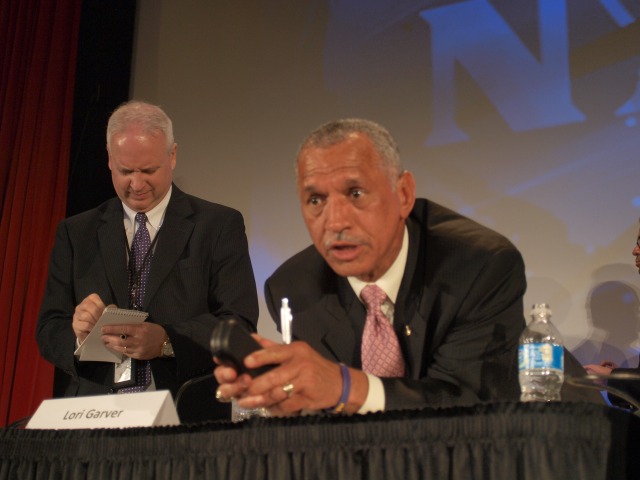 NASA Admininistrator Charlie Bolden listens to the views of a Conference Attendee.
At 4:10 pm it was back onto "Thomas", the NASA bus, for the return to the News Center. After picking up my copy of NASA's video DVD of the Obama arrival, speech and departure, I drove to the KSC Visitor Complex where the forum report back sessions were being held. Only about five reporters attended this.
I was able to plug my mini-disc recorder into their PA system and record the entire 40 minute session, including the informal comments at the end. This is a world-wide "Space Show" exclusive!
Listen or download (40 min 14 s - 36.8 MB)
I am particularly pleased with some of my pictures of NASA Administrator and four time shuttle astronaut Charlie Bolden.
We media were supposed to keep to a roped off area to the side of the auditorium, but after the formal summation ended and the session broke up into informal chat, I thought: "Stuff it, I want to do interviews." So I mingled with the movers and shakers of the American space programme!


The team leaders report on their team's recommendations.
Previous page Diary Contents Next Page The Space Show Southern FM
Text, images and audio Copyright to Andrew Rennnie, 2010