Working At News Center
| | |
| --- | --- |
| | Japanese journalists filing reports. One of the astronauts going up on STS 131 was Japanese, as was one other astronaut already aboard the International Space Station. |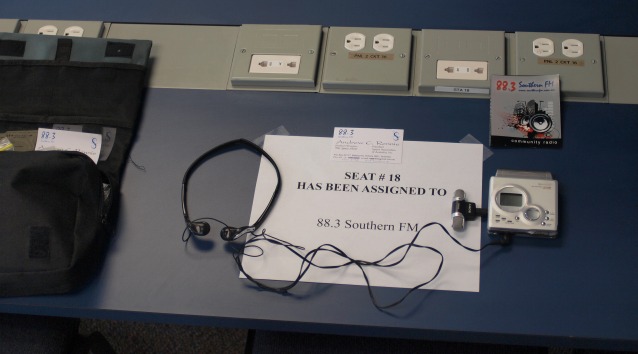 Set up for business, this was my Southern FM working space at the Press Center.
| | |
| --- | --- |
| | Another view of my work space. |
On Saturday I again drove the 80 km from Orlando to KSC. In the News Center I was granted my own workspace, which was a great help as I didn't have to lug my recording and camera equipment around the place.
At 11:30 am the pre-launch news conference was held, attended by Mike Moses, of the Mission Management team, Pete Nickolenko, the STS 131 Launch Director, and Kathy Winters, the USAF Weather Officer.
During my stay at KSC I attended more than half a dozen media conferences. The etiquette required when asking questions is that you say your name and media affiliation, so "Andrew Rennie, Southern FM, Melbourne, Australia" became an oft heard phrase on NASA TV and the Internet during April. On this occasion all three responded to my questions.
At 1 pm there were a series of briefings by those involved in the International Space Station's Science and Technology payloads.
Mid-afternoon I interviewed Japanese JAXA officials and university scientists. Japan had a suite of biomedical experiments aboard STS 131 that were being lofted to the International Space Station. In addition, Japanese astronaut Naoko Yamazaki was a member of the STS 131 crew. We also discussed Japan's cooperative activities in Australia, and the pending re-entry of the Hayabusa asteroid sampling spacecraft at Woomera.
Japan's involvement is so large that they have a dedicated media building alongside the main NASA press building, and that is where they generously gave me a quiet room in which to do my interviews.


Previous page Diary Contents Next Page The Space Show Southern FM
Text, images and audio Copyright to Andrew Rennnie, 2010