Manatees and Cabana
Waiting for the draw bridge to be lowered on the NASA Causeway West.
On Thursday morning, April 8, I rose before the sun and sat under the palms watching the eastern sky beyond the Kennedy Space Center brighten. At my feet manatees swam in the river. I never tired of these sunrises - each one was unique.
After lunch I drove to the KSC Press Center, the drive interrupted for ten minutes by the drawbridge of the causeway being raised to allow boats to pass along waterway.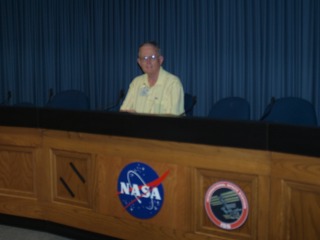 In the hot seat, I hold a press conference in the KSC Press Center's Auditorium. One person, a photographer, attended.
On arrival the at KSC Press Center I was surprised, when I headed into the auditorium to get my daily fix of NASA high definition television, to find a sign on the door saying : "NASA Employees only, please." The media room was deserted of employees, save one. She told me that a special briefing was being made to employees.
It turned out that, at short notice, NASA Administrator Charlie Bolden was announcing the future roles of the various NASA Centers to employees. These roles were being redefined in the light of the Obama Fiscal 2011 Budget Request.
Soon after the troops came out with long faces - the news had obviously not been good. Discrete enquiry elicited the information that there was going to be a briefing by KSC Director Robert Cabana at 3:30 pm. I decided to stick around for that.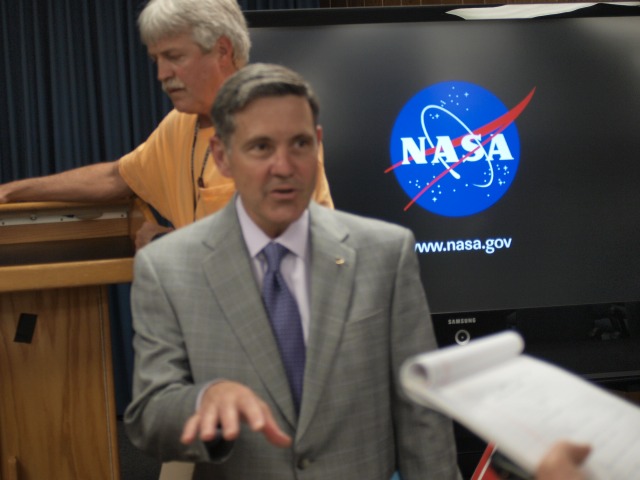 Robert Cabana after his press conference. The yellow shirted technician behind him was always very helpful, and often connected the high definition TV behind them for me to watch NASA TV.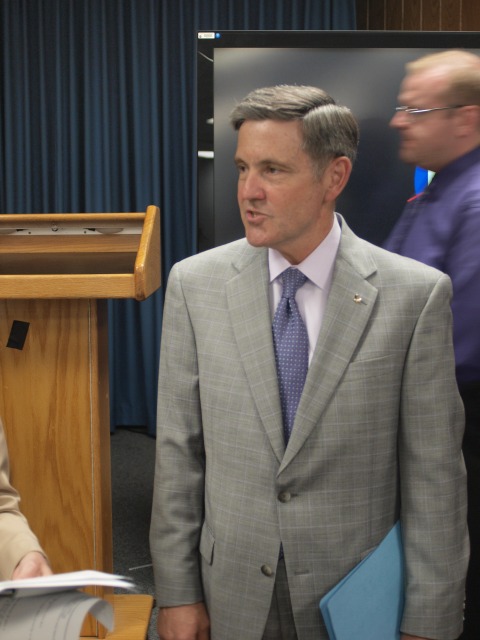 Robert Cabana. Behind him is Allard Beutel, the KSC News Chief.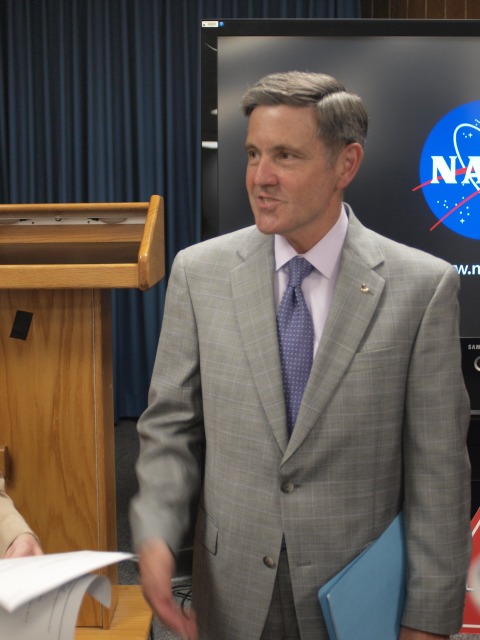 Robert Cabana just before I chatted with him.
At 3:29 pm I and two NASA TV cameramen were the only three in the auditorium - it looked like this would be a Southern FM world-wide exclusive!
With less than half a minute to go to air time, a few other reporters rushed in, followed by Cabana and KSC Public Affairs Director Lisa Malone.
Cabana announced KSC's role in the new Bolden plan. Then Lisa invited questions, and I again made Southern FM's presence known with three questions.
Afterwards I had a quick chat with Cabana.


Previous page Diary Contents Next Page The Space Show Southern FM
Text, images and audio Copyright to Andrew Rennnie, 2010