Obama's Speech
The view from my possie just after the President had left and other speakers began to elaborate on the new Obama space plan. Note that most reporters have immediately up-camera and hived off, leaving very few to listen to the remainder of the proceedings.
During the speeches I couldn't hear much of what was said. I put this down to my hearing impairment, but then realised that the White House supplied speakers I was standing beside were extraordinarily efficient - putting sound forward towards the VIPs and not backward towards the President and journalists on the side stands. Afterwards people who had been forward of the speakers told me they couldn't make out a lot of what the President said, as the cavernous venue had such a long reverberation time. Fortunately the speeches were being recorded by NASA and I was able to transcribe them off DVD onto minidisc for use on "The Space Show."
Senator Bill Nelson, NASA Administrator Charlie Bolden and President Obama had been five or six metres from me as they spoke from the lectern. Obama came closer as he shook hands with VIPs after his speech. The closest I got to Obama was about three metres. I could have gotten closer, but that would have meant descending from my elevated vantage point onto the floor of the High bay building, and losing clear photographic shots of him chatting with the likes of Norm Augustine and Buzz Aldrin.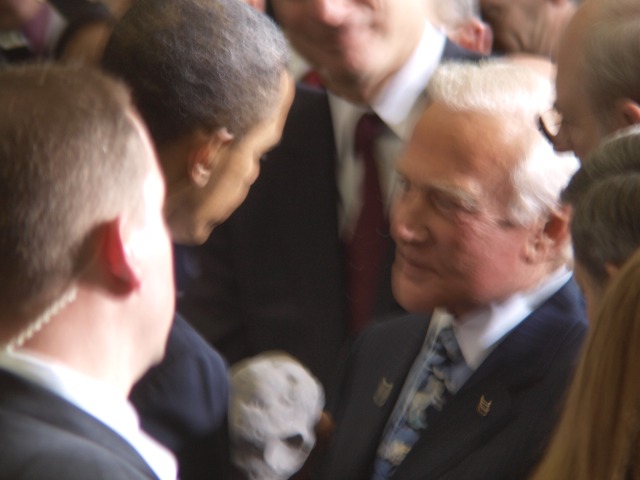 President Obama shakes Buzz Aldrin's hand. Aldrin gives Obama a model of an asteroid.
After this joyous meet-and-greet, with a final wave of his hand, the President was gone!


Previous page Diary Contents Next Page The Space Show Southern FM
Text, images and audio Copyright to Andrew Rennnie, 2010