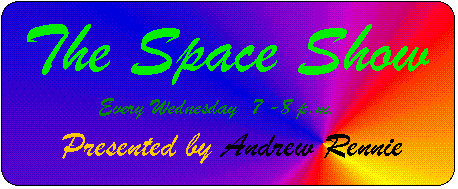 Before The Big Bang
The Space Show burst into existence on the Sunday after Easter, 1991 April 7.

Before that, members of the Space Association had been making recordings for their own enjoyment, for transcription to "Space Association News" and for lending to members.

Most of these recordings were not of broadcast standard, and have never - and will never - be broadcast on "The Space Show".

They are offered here for the patient and attentive listener.

Additionally, members of the Association had been involved in other broadcast media. A few of those guest appearances were recorded, and are also offered here.
NEVER BROADCAST
DATE RECORDED
LECTURER
TOPIC
1989 July
Andrew Rennie
Mark Blair
To mark the 20th anniversary of the Apollo 11 lunar landing we were invited onto radio 3CR. Topics included Ausroc 1, Cape York spaceport, Apollo 11, space debris, lunar poetry and music.
Listen or download Part 1 (46 min 42 s - 42.7 MB)
Listen or download Part 2 (36 min 33 s - 33.5 MB)
1989
Ken McCracken
Patron
Space Association of Australia

retiring Director
COSSA
Canberra

The World In 2015

Ken sticks his neck out and makes some predictions of how space technology might be shaping our world in 2015. This includes:
* optical cables supplementing satellite communications;
* widespread use of teleconferencing;
* phase out of books, magazines and newspapers;
* use of computers in analysing remote sensing data;
* Australian developed web technology;
* commercial crop monitoring from space;
* use of satellites for disaster monitoring and management;
* a busy spaceport at Cape York;
* high level use of computers to manage things internationally and the need to protect these networks from sabotage by placing them in orbit or on the Moon;
* advances in astronomy;* environmental management using satellites;
* human journeys to Mars and Io after 2025 paid for by PayTV subscriptions; and
* two alternate possible positions Australia could be in during 2015.
A transcript of this talk was published in Space Association News (SpAN 52, p 3-4, 1989 August)
Listen or download lecture (53 min 46 s - 50.4 MB)
Listen or download Q&A (22 min 13 s - 20.8 MB)

1969 July
Apollo 11 - The Norfolk Island Experience
Recordings made on Norfolk Island during the Apollo 11 mission.
View list of recordings
1966 March
Frank Borman and Walter Schirra Visit Australasia
Recordings from the NZBC, VOA and Andrew Rennie describing the visit to Austalia and New Zealand by astronauts Frank Borman and Wally Schirra soon after their Gemini 7 and Gemini 6 space missions. Also some of Andrew's photos.
Access recordings and photographs
1967 April
Soyuz 1 - Some Contemporary Reports
An unbroadcast documentary about the flight of the Soyuz 1 spacecraft and the death of cosmonaut Vladimir Komarov. Uses recordings from Radio Moscow, Radio Kiev, the Voice of America, the BBC, Radio Australia, Radio Japan and the NZBC.
Listen or download (1 h 15 min 2 s - 72.0 MB)
1979
Andrew Rennie
As guest on Radio New Zealand's "The Southern Sky" programme, discussing the activities of the New Zeland Spaceflight Association and the decaying orbit of Skylab. N.B. The addresses given are no longer valid.
Listen or download (5 min 28 s - 5.3 MB)
1981 April 10
Andrew Rennie and David Maclennan
Interviewed on Radio New Zealand's National programme about the visibility of STS 1 Columbia and the risks of the first Space Shuttle mission. N.B. Poor audio due to wrong tape type being used.
Listen or download (2 min 28 s - 2.4 MB)